Our Magento Developers Have Been Featured In





Our Team of Magento Experts Offer a Complete Adobe Commerce Magento Solutions with Different Engagement Models. From designing to developing and marketing your Magento store, we have you covered. We offer custom development, integrations, software security updates, marketing, custom backend development, and more. We're not just another agency, we're an extension of your business equipping your store with a one-stop solution for everything Magento.
Performance & Security – Magento Experts You Can Count On
Our experience-led & outcome-focused Magento development service aims to power your project with true expertise! Our experts have the experience, skills, and resources to handle Magento needs of varied scale or complexity. When it comes to performance & security, rest assured our Magento experts have everything under control.
As a top-rated Magento development agency based in Los Angeles, we provide services that guarantee diverse functionality and enhanced user experience.
We understand Magento, eCommerce, and digital marketing. Our Magento developers are here to build an eCommerce solution of your dreams.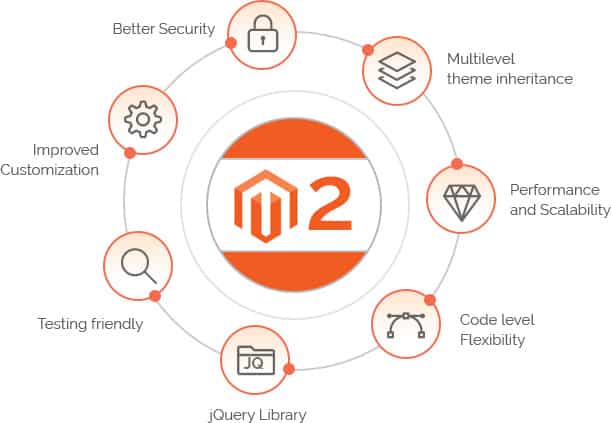 Magento Performance:
Under normal load, our Magento developers aim to achieve a load time of less than 1.5 seconds. We rigorously test the code and integrated systems to ensure your Magento solution delivers stable performance even during load peaks. 
Magento Security:
Our experts ensure your digital solution built around Magento operates in a safe environment. When you partner with our Los Angeles Magento developers, you will find that your Magento instance is always patched on time and that file systems are always protected.
Go from Magento 1 to Magento 2
Get Expert eCommerce Marketing on Your Side
Magento Featured Included In Our Service
In software development projects involving Magento, our Los Angeles Magento experts typically follow the agile methodology. Depending upon the unique project requirements, we may also recommend DevOps.
Various skilled resources, including Magento project managers, developers, designers, and QA professionals work together at each stage to ensure minimal-risk & high-performance software development.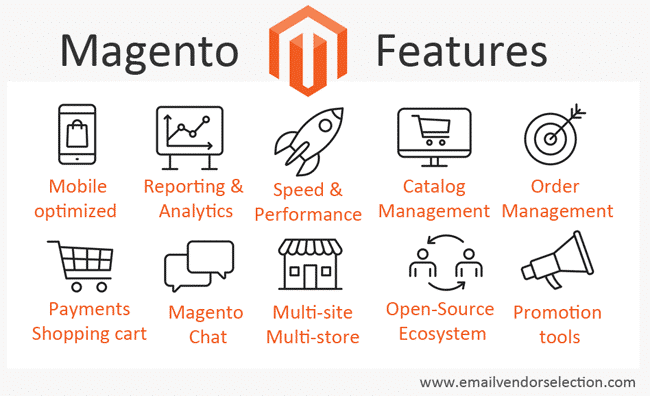 Magento development lifecycle typically involves the following steps:
Gathering all essential information

Analyzing captured data

Detailed Magneto software planning

Preparation of wireframes and layouts

Design & development of Magento software prototype

Magento solution development & implementation

Magento solution testing & feedback

Magento solution deployment

Magento software maintenance

Do you need a quote for converting Magento 1 to Magento 2?
To schedule a free consultation for your upcoming web design project with our team, contact 405 Ads today.
Magento Development Service for eCommerce Players
The eCommerce market is experiencing fast-paced growth. But, it is also evolving rapidly. Therefore, businesses are keen to pick a platform that has the capability to respond quickly to new requirements.
This is where Magento comes into the picture.
It's an open-source platform. So, you can use Magento to create your store in any manner you like! Regardless of whether you have a small or a large business, a Magento solution can be scaled as per your needs. Magento solutions are flexible enough to accommodate all kinds of eCommerce requirements. At 405 Ads, our Magento development experts deliver solutions that work seamlessly across all devices and browsers.
Key highlights of our Magento eCommerce development service are:
We focus on building scalable eCommerce stores wherein your company can manage multiple storefronts from one dashboard

We adopt a service-oriented architecture to reduce dependencies

We provide expert help for any requirements concerning Magento API web framework

Ensure smooth customer acquisition from multiple channels at one place i.e. centralized data management

Leverage tried-and-tested Magento extensions for enhanced functionality

Configure fast rendering of your eCommerce store's pages through varnish cache

Integrate payment gateways, methods, and services as per the nature of business you are in

Configure and monitor sales channels including POS solutions

Integrate different types of shipping methods

Perform real-time security scan of a Magento eCommerce store
For end-to-end Magento eCommerce services in Los Angeles, look no further than 405 Ads! Our modular development strategy ensures your solution is built for performance, scalability, easy upgrades, and conversion.
Contact the Best Magento Developers in the United States
Throughout the project lifecycle, our Magento development team maintains complete visibility. From day one, we open multiple lines of communication with all stakeholders.
Our team is continually available and we respond immediately when you need a Magento expert by your side. So, whether you have some quick feedback that you want us to factor in, need our Magento experts to fix a problem on priority, or have some last minute changes in mind for an ongoing Magento development project, you'd never have to hesitate to ask!
Gaining a deep understanding of your business as well as your digital marketing strategy is crucial for success regardless of whether your Magento development projects involves –
Magento customization

UX and UI design

Magento PWA development

Magento migration

Magento upgrade, or

Magento integration
Require Magento development quote in Los Angeles? Contact 405 Ads today for the end-to-end Magento development services!
Contact the Best Magento Developrs in the Indusry
When you work with our LA team of Magento specialists, you partner with a team dedicated to providing you with a website that attracts new leads and helps you achieve conversions. After all, what is the point of developing and marketing a website if you can't directly or indirectly sell a product or service? This is why our web designers always aim to craft websites that 'engage & convert' for clients across different industries.