Have you received a notification that your Google Ads account is no longer running due to Malicious Software?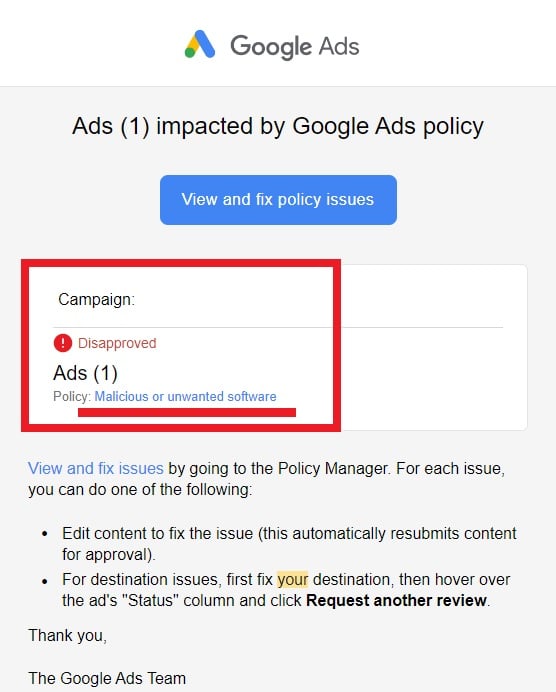 What is Malicious Software & Why Is Google Notifying You About it?
A malicious software notification on your ads account means the website URL you've placed as a landing page on Google Ads has malware. As a result, Google has opted out not to show the infected website to its users on its platform. 
Google describes Malicious software or "malware" that may harm or gain unauthorized access to a computer, device, or network are (non-exhaustive): Computer viruses, ransomware, worms, trojan horses, rootkits, keyloggers, dialers, spyware, rogue security software, and other malicious programs or apps. 
Without the technical expertise of how websites work, it can be overwhelming as you're now entering a whole new world where Google Ads support cannot help you. Even a Google Ads specialist who works on the ads platform may not be proficient at helping you in this case as diagnosing a website required the skill of a web developer – one that specializes in cleaning up malware and infected files and adding extra security to a site.
So How Do You Fix a Website With Malware?
These steps are critical to helping you achieve a website that is free of malware.
(1) Use a 3rd party scanning tool to find the malware on your website or its server
First, you need to locate where the malware is on your website. To do this, it is best to use a 3rd party malware scanning device that helps locate these files. To manually scan your website can days – we're not kidding, some platforms can have thousand and thousands of files which you would need to manually review. By scanning your site, you'll know exactly where the files are which are infected.
(2) Contact your web developer to remove the malware or if you feel comfortable, you can remove it with an FTP connection
By removing the malware you've found on your scan, you have the ability to remove it through an FTP connection on your host. You may want to resort to a web developer with the list if you are not comfortable removing the malware on your own. Keep in mind, that by removing malware, you may disrupt a file on your site which is critical to it being live. For example, deleting a content file that has malware but is your site's content should not be deleted but instead taken apart to the point where only the malware is removed.
(3) Add an extra level of security with a Firewall on your website server
To help reduce the chances of getting infected with malware, you can add a firewall to your site. By adding a firewall, you add an extra layer of protection against your site.
(4) Constantly update your website and its components
By constantly updating your software and plugins, you reduce the chances of getting attacked by malware because outdated technology on websites is the number one reason why websites get hacked. A connected, yet outdated plugin is a good example of how a hack from a 3rd party application can get access to your site.
(5) Contact Google Ads stating the malware has been cleaned
Once you've removed the malware from your site, and you have proof the malware has been removed (a 3rd party scan will tell you if your site is clean), then it's best to contact Google Ads support and speak to them directly providing your notes that the malware has been removed. Document your cleanup process along the way, and show proof that the site is marked clean with a third-party testing tool.
Google support isn't going to instantly turn on your ads so it's best to contact them as soon as possible.