PPC Management Agency
Getting Businesses More Leads on Google PPC Campaigns.
405 Ads is the Full Service Internet Marketing Company Getting Sites More Qualified Leads on PPC for Less.
A Local PPC Management Company Near You
Learn Why Businesses Choose 405 Ads as Their PPC Management Partner
Pay Per Click (PPC) marketing is an immediate solution to drive traffic and generate leads. The term, PPC, encapsulates various forms and types of advertising, however, the general structure remains the same (a company creates ads on the platform of their choosing to be published by the platform to a myriad of digital destinations, then, if a user clicks on the ad the advertising platform bills the company for the click). PPC is valuable because you pay for clicks rather than impressions. The most well-known version of PPC advertising exists directly on search engine results pages in the form of text ads or paid search listings. PPC simply denotes the agreement between the marketer and the ad publisher, you display my ad, and each time someone clicks on my ad I will pay you.
Is PPC Management Right For You?
Learn From a PPC Management Company Delivering Results
PPC management agencies excel at locating and exploiting opportunities in the market based on their client's business needs and user demand. Professional PPC management starts with reviewing the client's business model, competitors, current lead generation tactics, effective sales channels, consumer trends, and the clients' existing advertising accounts (if applicable). From there a strategy is formulated. A digital outreach plan balanced between cost, volume, and quality. For example, certain PPC ad types may serve different business segments better than others, particular advertising platforms may generate higher conversion rates based on the underlying user composition, or bid adjustments must be implemented based on the ads messaging and placement. Creating and establishing a custom marketing formula is the first step toward building a more productive advertising infrastructure. PPC management also entails regular testing and modification to ensure maximum value capturing and growth. 
405 Ads an agency that specializes in PPC management can handle your entire digital marketing portfolio, from social media ads to search and display ads. Diversifying your company's PPC portfolio is an important step in growing your business and will yield higher conversion rates at lower costs while highlighting campaign performance segments.
Local Services and Maps 
Two ad types, Local Services ads and Maps ads. Both are geographically targeted PPC ads by nature. Local Services ads are the sponsored service-provider cards at the top of location-specific searches for services (plumbing, legal, real estate, etc). Map ads are the advertisements on the map's portal that location-specific searches will generate, usually differentiated as an ad by a text icon and different map-pin colors. Local Services and Map ads are both PPC types that require detailed business information and proper setup/maintenance to ensure quality control and cost per click optimization.
The ad types mentioned above are some of the biggest pay-per-click models available to businesses today. At 405 Ads we build PPC strategies that take all of these possible routes in mind and allocate budgets based on the best performing ad types as viewed through our data-intensive approach to online marketing management.
Social Media PPC
Another form of pay-per-click marketing is available through all major social media outlets. Featured posts, sponsored links, images, text, and products. The ad types and platform settings span from pay per click to pay per impression and other potential catalysts. 405 Ads is experienced in Facebook/Instagram marketing, Twitter promotion, LinkedIn advertising, Pinterest, and all other social media PPC portals. Often combining search engine-based PPC campaigns with social media-based PPC campaigns yields high user engagement and wide-spanning brand outreach.
Amazon PPC
The largest retail store in the world. 405 Ads manages multiple Amazon PPC campaigns and has experience building profitable advertising campaigns within the Amazon backend.
Los Angeles Search Engine PPC Management Company
Tailor Fitted PPC Plans to Fit Your Industry & Goals
The largest source of PPC activity comes from search engine marketing. Google being the dominant search engine around the world (92% market share) also means that their advertising platform, Google Ads, retains the majority of PPC activity. However, professional PPC management requires understanding the client's needs first and building a comprehensive marketing campaign that considers all of the possible advertising vehicles to ensure high-quality traffic at the best price. 405 Ads utilizes all major search engines when managing PPC marketing for clients. Following a data-driven PPC approach, our agency is able to discover consumer trends and search engine opportunities that will elevate your marketing efforts.
Google Shopping Ads PPC
This is a product-based PPC advertising service provided by Google and Bing Ads. Recognized as a series of images with titles, prices, and reviews at the top of search engine results pages. Shopping ads are an eCommerce-specific pay-per-click instrument. And when they are properly managed will become a powerhouse sales source for both tangible and intangible product selling. Shopping ads are subject to approvals and updates, hiring PPC experts will enable you to take full advantage of this advertising avenue.
Paid Text Ads
These are the listings at the top and bottom of search engine results pages (SERP) that feature slight differentiation from organic results. Generally, the only difference between a paid listing and an organic listing is the word "Ad" either before the listing title, description, or a slight partition for where the ads start and stop on the results page (this depends on the search engine and user settings). PPC text ads are on all major search engines and can most easily be created in Google and Bing. 405 Ads PPC management will define keyword targets, bids, locations, durations/times, dynamic or static, callouts, and other relevant attributes of the text ad model as to improve your PPC capacity and advance your marketing efforts. Text ads are subject to approvals and optimization, 405 Ads is a Google and Bing partnered agency with PPC managers that are dedicated to achieving the highest performance and meeting all operating standards and updates. Text ads can be distributed to the platforms' search partner syndicate or narrowed in scope, knowing how to position your advertising campaigns is where PPC management shines.
Display Ads
Generally seen as an image with text, display ads are available in a multitude of configurations and possibilities. Display marketing is shown on search engine display networks and represents a fantastic mechanism for retargeting campaigns and large-scale outreach marketing. 405 Ads will analyze your business market to effectively secure a niche within the vast display network for your brand to operate and drive traffic.
We Love Helping Business Owners With Key Insights On PPC and More With Our YouTube Channel
Why Select 405 Ads Over Other PPC Companies
Helping Businesses Grow Online One Step At a Time. Let 405 Ads Handle Your Online Marketing.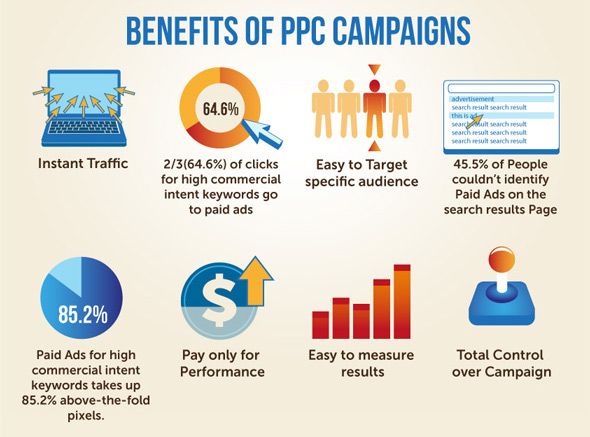 Get Real Benefits With PPC Like 97% of Our Clilents Do
PPC advertising has been one of the most effective digital marketing strategies for the past 20 years. This is why most business owners' marketing portfolio consists of some form of digital marketing with PPC. So what's the difference between running PPC ads yourself and with our experience? 97% of business accounts we manage on PPC end up seeing better results in 3 months or less with our management help versus a business that would manage their own PPC account.
PPC gets you instant exposure to ads that have your targeted keywords

PPC is easy to target your audience who are searching transactional keywords

With PPC, on;y pay for the traffic you receive

PPC is easy to measure success with call and email measurement tracking 

Test control PPC with A/B testing of ads targeted various factors (device, location, hours of the day, etc.)
405 Ads PPC Management Services Are Here to Serve You
Strategy, implementation, results, maintenance, optimization, and reporting. Effective PPC management ensures that the money you spend on driving traffic to your website or business is productive. PPC management never sleeps, ad accounts on all of the platforms require updates, improvements, the development of more campaigns, and insightful optimization and maintenance. When you work with 405 Ads we will make sure your business rises to the top of your marketplace through the use of PPC advertising.