Many business owners assume their websites will automatically rank for their target keywords. They like to think they just need to build websites that look great and work well across different web browsers and devices.  
Most business owners know they need SEO (Search Engine Optimization). After all, it's one of the most popular terms in the world of eCommerce.
But, they do not realize the fact that web designers cannot do SEO. They do not even know what SEO truly entails.
Yes, this is true.
Many of our clients have had the notion that SEO is a part of the web design & development process. They thought that as soon as a website is ready for launch, it's SEO-ready as well.
Such misconceptions are common.
So, we thought we should explain why web designers are NOT SEO experts and why it is plain wrong to expect them to do your website's SEO.
Web Designers Are Artists, Not Digital Marketing Specialists
Artists can convey different ideas through their creations. Programmers, on the other hand, apply a set of predefined methods and principles to achieve the desired end.
In this respect, a web designer uses a bit of both art and science.
Be it the website logo, header, footer, banner, slider, or any other design element, web designers let their imaginations guide their actions but remain within the limits of a programming language or technology platform such as WordPress, Joomla, Drupal, etc.
Sure, web designers can create eye-catching websites that ensure great first-impression. They can create appealing and interactive interfaces.
Many web designers also understand UX (User Experience) concepts. They understand how users interact with different elements on a web page.
But, artists such as graphic designers or those who develop the frontend interface of a website are not digital marketing specialists.
This is the reason why so many award-winning websites that have been featured on platforms such as theFwa and Awwwards don't do so well when it comes to search engine rankings.
Misinformed Assumptions About Web Design Process & SEO Lead to Disappointment
Business owners need websites because they want to – 
Promote their brand

Generate leads 

Sell products or services 
However, SMEs seldom realize that merely building a website does not help them achieve either of these three goals. 
When a business owner hires a web designer to build a website, he is likely to make assumptions such as: 
If our target customers search for services that we provide, they will find our website on Google 

If my website looks great, it will generate more business 
Such misinformed assumptions about web design process and SEO lead to disappointments such as: 
No SEO: The web designer has built the website but it hasn't been optimized for search engines. 

Delays: You need to work with an SEO specialist to get your website ranked on Google AFTER your website has been built and launched. 

Additional Costs: Your website needs to be revamped to make it SEO-friendly. So, you've to incur additional costs.  
The illustration below sums up these points quite well!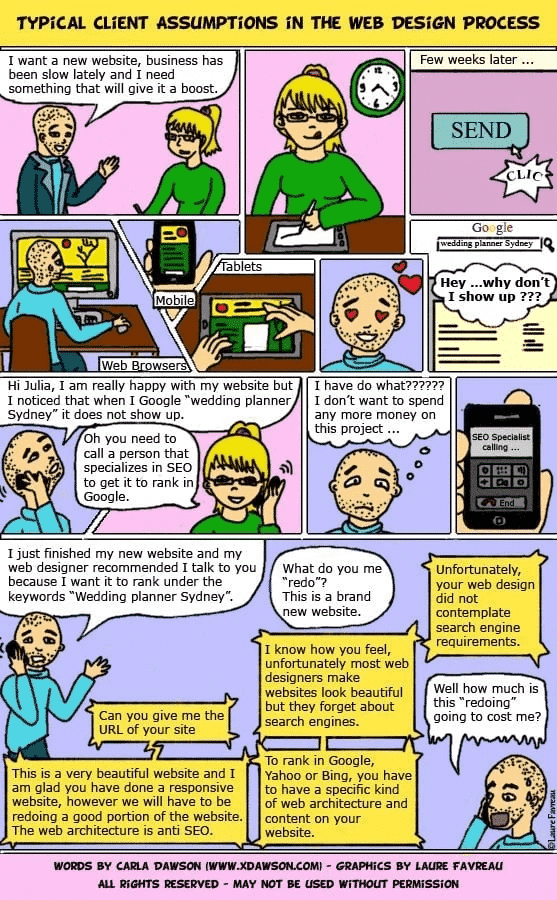 Web Designers Can Guarantee Great 'User Experience' but Not 'Users'
Large-scale eCommerce companies as well as businesses that rely heavily on online presence for conducting business online/offline, spend a hefty amount of money on different marketing mediums.
Often, such businesses attract online visitors who –
Search for brand-related keywords (e.g. semrush seo tool and iphone 11 charger in NY)  

Directly visit business websites (e.g. www.nike.com )
The same does not hold true for small and medium scale businesses that cannot spend thousands of dollars each week on paid search campaigns, television/radio/display/print advertising, affiliate marketing, etc.
Such businesses need to make an effort to 'get found' on the Internet. They need to get ranked for non-branded keywords.
They need both on-page and off-page SEO to get ranked for a set of target keywords.
Consider the following case scenario:
A dental clinic called 'XYZ Smile Makeover Dental Clinic' in Los Angeles has a website with the domain name www.xyzdentalclinic.com
Jack, the owner of the clinic, thinks the website looks great. But, the website was not optimized for target keywords and no effort was made to get its pages ranked for various search queries.
In short, SEO was not part of the deal Jack signed up for.
Now, Jack is wondering why his website isn't getting any visitors.
After all, there must be hundreds of people searching for various services offered by XYZ Smile Makeover Dental Clinic in Los Angeles.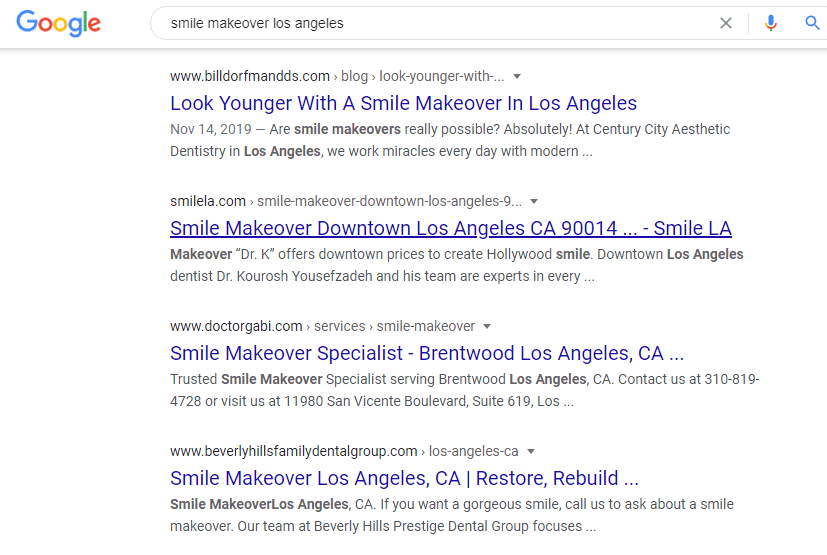 Here are the top reasons why Jack's website may not be appearing in the SERPs:
The dental clinic website does not rank for non-branded keywords such as 'smile makeover in Los Angeles'

The website may get ranked for branded keywords such as 'XYZ dental clinic in LA' but no one is searching for it because Jack's clinic is not already popular

The website is too slow or its design isn't SEO-friendly

The website does not have any domain authority because it does not have any quality backlinks  
Now, it does not matter how amazing Jack's website looks. The intended audience isn't landing on the website from Google's search results.
Put simply, there won't be any 'user experience' if no one visits your website.
Is It More Expensive To Do SEO Of A Website After It Has Been Designed?
If a website has been designed without adhering to technical-SEO guidelines, it may need to be revamped all over again. 
On many occasions, SEO experts need to get a large portion of a 'great-looking' website redesigned to ensure it meets the latest search engine requirements.
Therefore, you may need to spend more money if you plan on hiring an SEO expert for on-page SEO AFTER a web designer finishes building your website. 
Once your website is ready, there will be a recurring expense on ongoing off-page SEO and the addition of new, useful, and engaging content on your website.
In the long run, investing in SEO yields healthy dividends.
What Clients Can Expect from Web Designers?
Web designers are not responsible for optimizing your website for search engines. 
But, design choices can have a major impact – good or bad – on a website's SEO. This in turn can affect a website's performance in the SERPs.
Therefore, professional web designers are expected to know a few SEO basics. 
They should, for example, make sure that navigating the website through menus, tabs, buttons, links, etc. is easy; calls-to-Action within a page should be clear; a standalone and eye-catching logo is a must; design elements such as Images and graphics should be of high quality. 
According to a report, approximately 60% of all online searches are now performed on various mobile devices including tablets. In some sectors, the mobile-search share is as high as 72%. This is the reason why web designers are expected to follow mobile-friendly design principles. With the announcement of mobile-first indexing back in 2016, it is clear that Google, too, takes mobile-friendly design very seriously.  
Put simply, additional knowledge about technical-SEO can go a long way in ensuring a website reaches its intended audience. 
So, it's okay for clients to expect web designers to meet these expectations.
Do SEO Experts Work Independently Of Web Designers?
Not always. 
SEO experts often need to work with web designers to make websites SEO-friendly. 
Yes, SEO is no longer considered a niche specialty. Web designers, backend developers, and content creators have an important role to play in the process.
SEO experts can, for instance, advise copywriters on how to create and optimize content that increases the likelihood of a page getting ranked higher up in search results.
They can advise web designers on setting up custom 404 pages, testing links/forms/buttons, mobile-first web design, the position of CTAs (Call to Action), and more.  
SEO specialists can also ensure a web developer meets important technical-SEO requirements. From robots.txt file setup and installation of SSL certificate to XML sitemap setup, AMP implementation, and canonicalization, there are dozens of such technical-SEO factors.
But, only SEO experts have the knowledge and experience to connect the dots and drive tangible results in terms of organic website traffic. 
You Need SEO Expert On-board Both Before and After A Website is Designed
It is advisable to have SEO experts onboard both BEFORE you start working with a web designer to build a new website and AFTER it has been launched. 
Ideally, a professional SEO specialist should be engaged right from the beginning of the proposal phase.
Remember, only an SEO specialist can help you with pre-launch SEO tasks such as keyword research, competitor research, content optimization, strategy planning, title tag creation, etc.
Post-launch SEO tasks such as back-link building, SEO audit, market analysis, etc., can also be handled by an SEO expert alone. 
A web designer or developer with basic know-how about Google Analytics or Google Search Console can't do much.
Final words
SEO is an extremely vast and inherently dynamic field. It changes as frequently as search engine algorithms are updated.   Web designers can work with SEO experts to make a website SEO-ready. But, they are NOT SEO experts themselves.
If you are yet to build a new website, consider hiring a team that can handle everything from web design and development to SEO. Such teams can also provide ongoing SEO support. Designers and developers can chime in each time you need a new landing page or if search engines announce new technical requirements.