What Sort of Advertising is Grabbing the Most Attention?
Are you thinking about doing some form of inbound marketing or interrupted marketing? But before you choose or know which is better, you may want to understand the thought process behind each one. The one thing you might have not known is how do people view and think about online ads as it relates to search engine marketing such as SEO and Google Ads. Sometimes it's better to be innovative and actually not focus on making a good online ad that customers prefer and understand what customers don't want to see in an online ad. This is where inbound marketing comes into play more often. So, to avoid these mistakes and grow your business and seem so heavily focused on just traditional advertising such as interrupted marketing, the new leader of marketing now heavily relies on inbound marketing. Especially now with the 2020 COVID-19 pandemic, we are not seeing traditional interruption marketing such as tradeshow booth advertising or even display ads that are targeting a particular area such as a community billboard or those pesky outbound sales calls.  Also, to look at a new way of marketing that has proven to be effective for small businesses and product placement, inbound marketing wins by a long shot in our book.
Never Did Inbound Marketing & Don't Know Where to Start?
Are you looking for strategies to improve your business with consumers who are actively searching for what your business has to offer? Even if you have never had any form of online marketing or even if you don't have a website, you can consider Google's advertising platform Google Ads. Then here are some important things to consider. One important thing to remember is how people view Google Ads and internet ads. The general opinion is that ads have become too many, too intrusive, too creepy. Many don't hate ads; they just hate bad ones. The most hated of all ads are pop-up ads, being the most intrusive and annoying and ones that consumers ignore. The next one is re-targeting ads that stalk consumers. It gives the impression people are being tracked and erodes the reputation and what customers see in an interesting ad. Also, the interest as itself is of low-quality presentation and site placement. Consumers don't like to look at cheap ads and ones that are placed in odd places or too many places on a website. Successful digital ads don't overtly disrupt the consumer's browsing experience in an intrusive or annoying way. They make sense in the content and location where they're placed, look professional, are easy to understand and use. They are well-targeted to the consumer, so they're relevant and speak the consumer's language. They're clear about what's being offered, so people don't feel tricked.
Next, is learning to use inbound marketing to grow your business and sales. Inbound marketing is the use of leads and tactics that lead the consumer to your business rather than interrupting consumers with your message or ad.  The effect is more useful for a smaller business that doesn't have the means to fund big ad campaigns and projects. Also, it lets consumers make the choice to let them figure out what they need and come to you rather than you going out to them or bombarding them. Inbound marketing uses a different approach wherein the consumer searches for help or a product. You are there to help them by giving the answers to their question or products for their needs.
How Do You Perform Inbound Marketing Correctly?
You can do this by using Content Marketing to produce the blog posts, case studies, testimonials, etc., and through Search Engine Optimization (SEO), which keeps your content on the first page of the search results so anyone searching can easily find the content that you produce.  Simon, an SEO specialist at 405 Ads claims "all content related to your business that is relevant to what an online user is searching should be on your website" and then when you build your business and people recognize you. Even if you engage in giving free advice to people online, your organic presence with SEO can lead to greater things for your site which exposure was never a negative experience with an online search. When this happens, you need to in the front and in the minds of consumers. You can use SEO so your website or product is on top of the search engine results and a PPC like Google Ads. Google Ads allows you to be on top of search results first and allows you to curate and get customers for products and services you offer.  You can use Content Marketing to attract customers in a myriad of ways. From blog posts, testimonials, etc. Once this is done, and your customer is satisfied with your product or service you can get positive reviews from them, which can help you attract even more customers. If you are in a business where repeat customers are a possibility, you can use Google Ads remarketing campaigns for repeat business and to keep customers.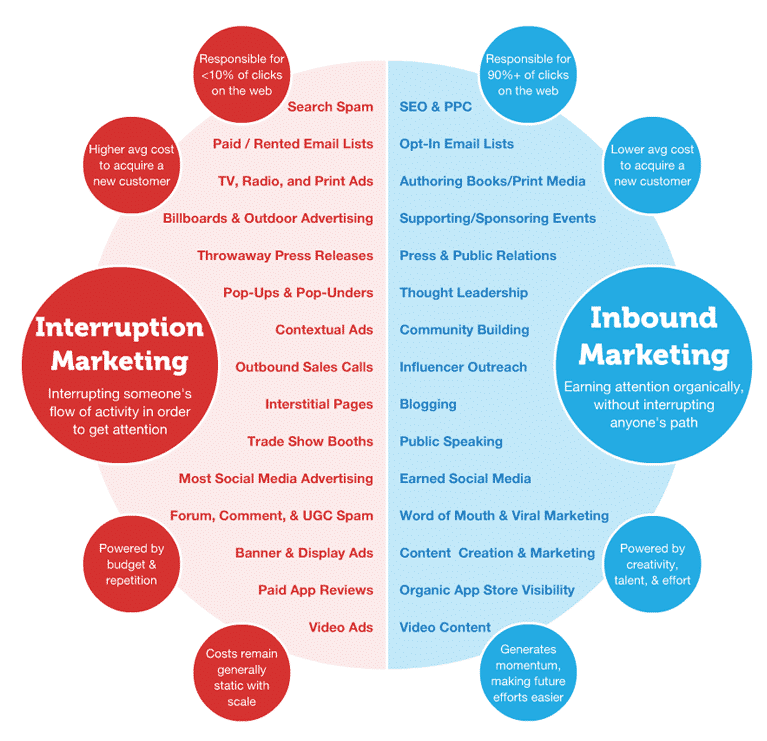 Inbound Marketing Wins Interruption Marketing Nowadays
In conclusion, the trend towards inbound marketing is on the rise and a great tool to consider when stating your business and wanting to sell your product. Also, understanding the pitfalls of internet marketing and what people do and don't want to see in internet ads should give you a better understanding of how to approach customers and a better understanding of how to grow your business.