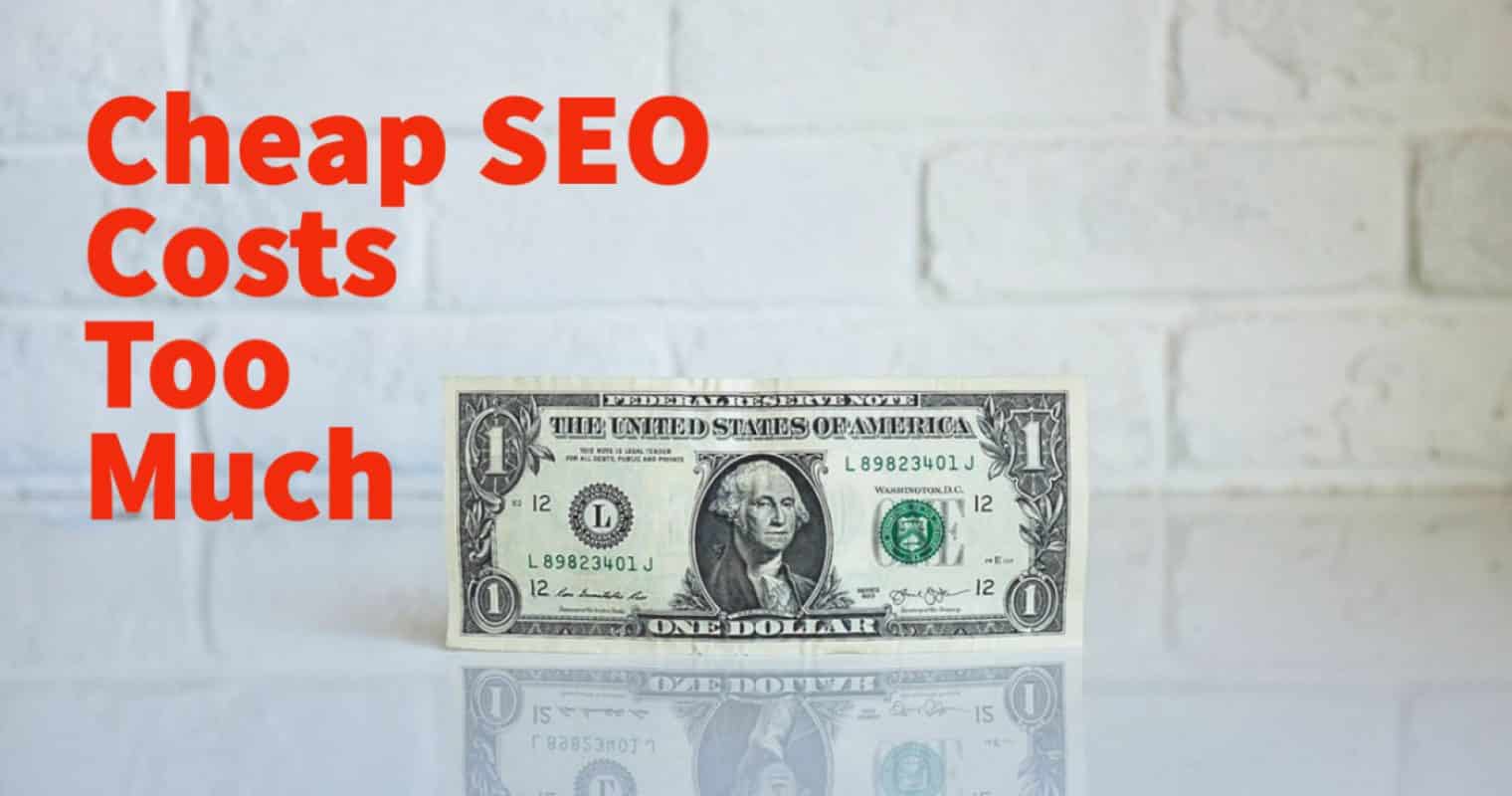 Search engine optimization is probably the most competitive online marketplace. Even in today's technologically advanced age, only a few marketing techniques are considered to polarise opinions like SEO.  Some consider it as a redundant practice or an inexpensive luxury they don't require, others commit a large portion of their budget towards SEO. 
Essentially, people who consider SEO unworthy of any accolade must understand and learn to distinguish reputable SEO services from those that are accessible and cheap. You are risk-averse until you dive into the bargain pool. Focus on investing and getting returns instead of looking for cheap SEO services. So, if you want to introduce your brick-and-mortar store to the online world, hire a professional SEO company without any hesitation. 
As a business owner you must understand that when you hire an SEO company, you put your brand, reputation, and website at risk. You don't need a marketing company to scrape out change from underneath your couch cushions. 
Marketing professionals strategize and devise proven techniques to generate leads and potential sales. Without them, you miss out on these.
So, don't risk your reputation on the pretext of saving a couple of hundred dollars.  
Let's look at the reasons you must avoid cheap SEO services.
Link Network
One of the most effective ways to improve your website's ranking is link building. But this is not something that not anyone can do. While the link juice may come from any place, Google requires high-quality links to improve your ranking. And distinguishing good from bad links is something only an industry expert is proficient in.
There is a curated strategy that a marketer must follow when making backlinks. An experienced marketer knows which links to avoid. This can make and break your whole SEO strategy. When you have a cheap or unprofessional SEO company at the helm of your link-building process, the reputation of your business is at a big risk. Keep in mind that these companies are cheap for a reason. They find the easiest way out and go for the cheapest links they can find.   
To put things into perspective, link building is not a simple task. A lot of hard work and effort go into building quality links. Usually, these cheap SEO companies try to befool Google with cheap links. This will send spam signals to Google which will affect the ranking of your business. Essentially, they will build links without caring about any strategy or Google strikes. They just want to show you that they've done something. You don't want such people to be associated with your business. 
Now, this strategy may give a sudden boost to your ranking but this is not good for your business in the long run. Bad links won't take your website anywhere. While the sudden boost may impress some business owners, it is only time before these links trigger algorithmic penalties. As a result, the ranking will go down and you will lose all your traffic. 
Black Hat SEO
One of the dangers of getting a cheap SEO service is the use of black hat techniques. To help you better understand this, let's take a look at what the marketing world means by white hat and black hat SEO.  
White Hat SEO: It is essentially a marketing technique that is targeted towards a human audience instead of the search engine. The strategies involved in this technique require time and effort. But as it is a long time investment, the results also last for a long time. So, when you hire a SEO company, make sure they use only White Hat techniques. 
Black Hat SEO:  This refers to strategies used to rank a website or page higher on the search results by breaking the search engine's rules. Unlike white hat SEO, its majority focus is towards search engines and not so much towards the human audiences. This is typically used by businesses and marketers who are looking for short-term results. While this may help your business rank higher quickly, the results are not sustainable. Further, if caught you may get penalized by the search engine. 
So, is it worth the risk? 
When you hire cheap services, they do not care about the rules. All they want is to give you results quickly without making too much effort. And that is why their services are cheap. In other words, Black Hat involves wrong ways to get desired results. This includes techniques such as private blog networks, keyword stuffing, etc. These may get your web page rank higher for a short time but often damage your user experience. That is why if you see a future of your business in this online world, such techniques are something you should not subscribe to.
Inadequate Content
If a company is willing to use Black Hat techniques and build poor links just because they are too lazy or incompetent to market your website otherwise, then for sure the content they will produce for your website will be nothing more than inadequate. 
When you hire a cheap SEO agency, it is only a matter of time before you understand why they charge considerably less than their competitors. More often than not, the content they produce is inaccurate, poorly researched, unengaging, and too complicated to understand. Keep in mind that if the service is cheap, they will not go out of their way to employ professional and experienced copywriting services. Instead, they choose to get services at the lowest prices. 
This will not only harm the traffic on your website but ruin your brand's reputation. 
Also, cheap copywriting services mean that the content on your website may be plagiarised, false, and point your users in the wrong direction. This is unacceptable. Imagine your website having grammar errors. Your visitors will deem your business unprofessional. 
Content is key to getting ranked higher on the SERPs. As a business owner, you understand the power of good content and how it can persuade people into purchasing services that they don't even require. Exactly the opposite can happen if the content is poorly structured. You don't want to lose your loyal customers over a few hundred dollars, right? 
So, if you want your business to grow and make a reputable name for itself in the industry, hiring a cheap SEO service is the last thing you want. 
Short Term vs Long Term Success
Search engine optimization is something that shows results over time. As a business owner or a marketer, you need to be patient to determine if your strategy is working or not. As we discussed earlier, there are no shortcuts in SEO. 
As a businessman, you must always look to cut costs wherever possible. But there are some things that you cannot trim like search engine optimization. Treat this service as a long-term investment. Because trimming essential tools or partnerships to reduce costs may work out for you in the short term but it will not be good for your business in the long run. 
In other words, if you had a mobile repair business, how successful would you be if you used inferior parts to trim your costs. This holds true for every business. You are investing in quality and that is bound to pay you a dividend in the future. 
More often than not, when you hire such cheap SEO services, your website takes a huge toll. We've had clients that came to us after getting penalized by Google and we had to start from scratch. In reality, it is better you learn SEO basics yourself than invest in any cheap SEO service. 
Hire a Professional SEO Company Instead
So, don't get duped by cheap SEO services. Your brand deserves better. Why risk the reputation of your brand over a couple of hundred dollars. Keep in mind that once Google has incurred a penalty, there is no telling when your business will get back on track. 
There is no denying the fact that small businesses are the ones that will suffer the most. Big businesses may be able to make a comeback but for small businesses, cheap SEO services is a death sentence. 
To put things into perspective, if Google penalizes your business, you may have to bear huge losses not limited to just a couple hundred dollars but about a year of no online sales or lead generation. And the odds of this happening are significant enough for you to be scared.  That is why it is important you save your business and yourself from getting burned by such fraudulent services. 
Where you will save up some hundred dollars, you will end up spending more to clean the mess up afterward. For this reason, invest in an experienced and professional SEO company. We are a professional marketing company that houses a team of industry experts that have helped hundreds of businesses achieve their targets. 
Just remember that the investment you make in a professional SEO company will easily double up over time. Stop considering the price when hiring for search engine optimization services. You've worked hard to make a name for yourself in this industry. Do not let your brand's reputation get ruined. 
A Video About FAQ Before Hiring an SEO Company