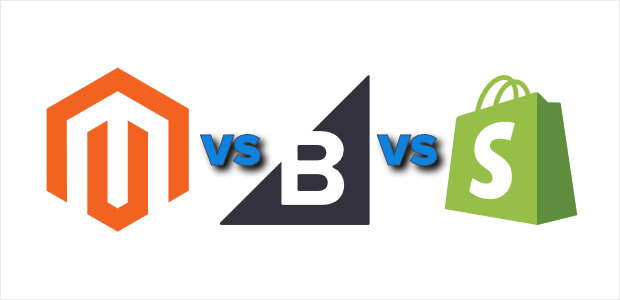 E-commerce stores are the perfect solution to almost all problems that the shoppers of today's day and age face. What are the problems that a buyer faces today? From the very pronounced lack of time due to a super busy schedule to the COVID 19 movement restrictions that came into place, the realization for online E-commerce stores became even more apparent for the buyers. Sitting at home and ordering things at our convenience, helps us in controlling every aspect of our buying process from the comfort of our home.
This has led to an explosion of E-commerce stores like Amazon, eBay, etc. selling any and everything that you could possibly want to buy. The choice that haunts the retailers of such E-commerce stores, however, is the aspect of choosing the right kind of technology to create their base and valid E-commerce website or platform. For this reason, we have a variety of online technological platforms like Magento, Shopify, BigCommerce, etc. aiding in creating the store we want.
Now when we have so many of such technologies to create the best base for an E-commerce store, a lot of other factors directly influence our decision in going ahead with a particular one. Some might go ahead with Magento while others may choose to go for either Shopify or BigCommerce. What are the factors that influence the decisions of these E-commerce megamind companies to go for one of these E-commerce technological platforms? Which one is better and which one would be most suitable for your organization?
Especially in the times of today when the competition is fierce, you must be on your toes when building your website. 
Let us go through the important points to be considered when deciding between one of these three platforms with the help of a table and the list of pros and cons.
Magento
Shopify
BigCommerce

Pricing

Expensive

Affordable

Affordable

Ease of Use

Complex

Easy

Easy

Template Selection

Hundreds 

Hundreds 

Hundreds 

Hosting

On-Premise

Cloud-based &

Third-Party

Cloud-Based

Cloud-Based

Security

Depends on what you choose

Secure

Highly Secure

Features

Feature-rich

Some native features

Third-Party Apps

Feature-rich

Best for

Big teams with lots of resources

Small shops wanting to go online

Small and large shops for a streamlined E-commerce experience
Table 1. Important Factors that will help you in deciding which platform you should go for.
Magento

Magento is one of the more expensive and enterprise-based E-commerce platforms. It has been a popular choice for many merchants and over 100,000 websites have created their online stores on it. It is based on the open-source technology system and has transitioned to a more B2B E-commerce technology and B2C enterprise platform for large and complex businesses to aid them with customer use cases. Let us look at the pros and cons as well as the 'Recommended for' section to better understand if it is indeed the right platform for you.
Pros of Magento
It is a feature-rich platform with out of box flexible language and currency options

The available extensions are many so there is extended functionality for the enterprise-level merchants

There are two ways of accessing it: On-Premise and Commerce Cloud

You can build your own support team of developers and partners ready to assist

In-depth training is also available

B2B with E-Commerce 
Cons of Magento
For a nontechy team, it might be a little difficult

Need a good team of developers or the customizations could cripple your site

A hosting provider is always required

Slow time to launch

Comparatively more expensive ownership

Cost prohibitive for any feature development or general maintenance
Magento is Recommended for
Mid level to Enterprise level merchants for B2B & B2C

Merchants that need complete control over the customizations and the entire ecosystem

Merchants that have complex product data and require complex integrations
Shopify
The most popular out of this list, Shopify is by far the most valuable E-commerce platform in the market right now. Shopify is an eCommerce SaaS platform that is a software as a service one, which means there is no need for you to buy a license or hosting separately while using it. It has an ever-growing list of online stores with over 1 million stores that are life. Shopify has it all including a user-friendly dashboard, easy-to-customize themes, and low cost of ownership which makes it such a popular choice for merchants. Many low to enterprise-level, B2C merchants find that this is the most suitable for them. 
Pros of Shopify
It is relatively easier to use and set up

Hosting, technical support is always provided on Shopify

The important payment options are included in it

Low cost of ownership

It Is super fast and doesn't take too much time to launch

You can extend the native functionality with available apps
Cons of Shopify
There are a limited number of free themes

It is not very flexible in terms of product data and development

Poor native filtering rates

The payment gateway has restrictions 

No native multi-stores 

No focus on the B2B E-commerce
Shopify is Recommended for
Low to Mid Level B2C Merchants

Merchants wanting to save on the developer and hosting costs

Merchants focused on presentation E-commerce experience
BigCommerce
BigCommerce is an E-commerce platform that provides the same SaaS (Software as a service) service that Shopify also gives to the merchants. Founded in Sydney, Australia, this platform is probably the smallest out of the three being discussed here. With affordable enterprise plans, more APIs, and more out-of-box functionality than even Shopify, BigCommerce has the unique advantages of flexibility and customizability. 
Pros of BigCommerce
All in one hosting solution are present

Many out of box features included

Highly customizable

Strong native APIs

B2B features

The developers can pick the most preferred stack for language agnostic

There is native WordPress integration as well

Local staging environment and it takes almost no time to launch
Cons of BigCommerce
Lacks scalability as opposed to the open-source solutions

Limited add on functionality

The number of users and community is less so slightly less known
BigCommerce is Recommended for
Mid-level B2B and B2C merchants

Merchants that need flexibility with complex and frequent API requests

Partners that want to grow with their merchants
Final Thoughts on the 3 Big eCommerce Brand Platforms
The confusion only arises for merchants who aren't yet sure of what they want. When you have a rather focused team of members, you are always aware of what might be most suitable for you and what is within your reach, all logistics considered. The reason for focusing on only these three E-commerce platforms is simple, these three are always on top. That is due to a multiple numbers of reasons that directly contribute to enhancing their standing in the eyes of the customers. From the long list of customers, they have satisfied to the success rate of each individual E-commerce platform as an entity, the name and popularity only grow when the promises are fulfilled. We only hope that this detailed discussion has helped you in choosing the right platform for you and your team. 
If you have any concerns, talk to our experts. We are a team of highly experienced and skilled marketers. Share your thoughts with us in the comment section below. Good luck!